Dartball is a super fun game that combines elements of darts and baseball. And the best part? You don't need to be an expert in either sport to enjoy it.
If you're looking for a game that's easy to pick up, yet offers hours of competitive fun, dartball could be your new go-to.
So, how do you play it?
1. Gather Your Equipment
You'll need a dartboard, specifically a dartball board.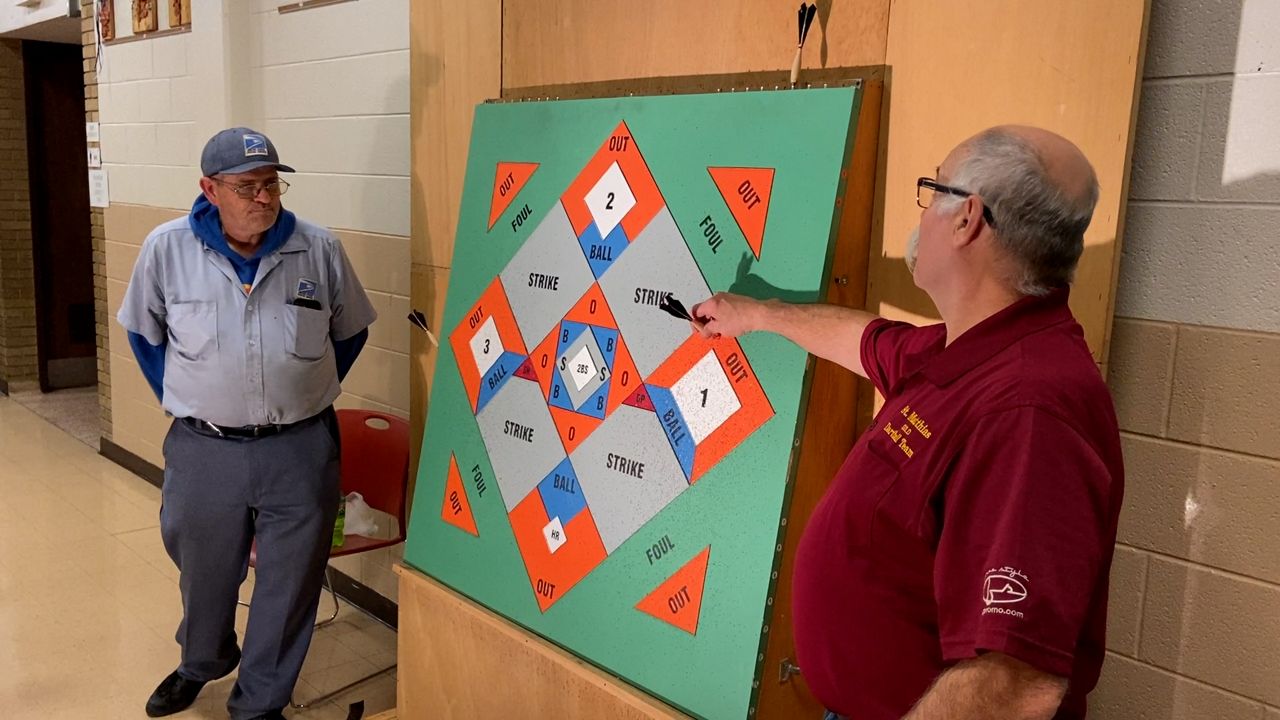 This looks like a traditional dartboard, but it's marked up like a baseball field instead.
And of course, you'll need some darts.
For safety reasons, you might want to consider soft tip darts if you're a beginner or if kids are playing.
Sale
Bestseller
Accmor Steel Tip Darts, Professional Metal Darts, Darts Metal Tip Set, Metal Darts for Dartboard,18 pcs
Quality Material : High quality stainless steel dart tips, elegant copper-covered barrel and pvc rods , really…
Strategically placed copper covered and skid-proof grain provide excellent gripping points, enhancing your…
For All Skill Levels: Fit for all skill levels darts enthusiast or professional darts player .
Enjoy The Dart Game- Totally 18 pcs darts , could be divided into 6 teams, enjoy the fun dart games or compete…
Ideal Gift : Our metal tip darts set can be an ideal birthday gift, Thanksgiving gift, Christmas gift, and…
2. Understand the Rules
Just like baseball, dartball has innings, batters, and runs.
Each team gets three outs per inning.
Instead of swinging a bat, though, you're throwing a dart.
Where the dart lands determines what happens next – a hit, a miss, or maybe even a home run!
Your goal, like baseball, is to score more runs than your opponents.
3. Master the Board
Understanding the dartball board can be a little tricky at first, but it's not too hard once you get the hang of it.
The board is divided into sections, each representing a different baseball outcome.
If your dart lands in the "single" section, that's a single hit.
Land in the "double" or "triple" sections, and you've got yourself a double or triple hit.
Hit the small "HR" or home run section, and you're the team's hero!
4. Practice Your Throwing
In dartball, your throwing technique is crucial.
Just like in darts, you want a steady, smooth throw that sends the dart straight to your target.
You'll need to practice to get the hang of it, but that's all part of the fun!
5. Gather Your Team and Play
Once you've mastered the rules and the board, you're ready to gather your team and start playing!
Each player on the team gets a turn to throw, and the team keeps going until they get three outs.
Then it's the other team's turn.
The game keeps going until all the innings are over, and the team with the most runs wins.
Conclusion
Playing dartball is a wonderful way to enjoy some friendly competition.
It's not too hard to learn, and it's a lot of fun once you get started.
So grab your dartboard, gather your team, and let's play dartball.
Related Questions
1. Question: How many players are typically on a dartball team?
There's some flexibility when it comes to the number of players on a dartball team. Generally, teams can range from 4 to 9 players, similar to a baseball lineup. The key is to ensure both teams have an equal number of players.
2. Question: What happens when a dart misses the dartball board?
Just like in baseball, if you swing and miss, it's considered a strike. In dartball, if a dart completely misses the board or lands in a foul territory (typically marked in red), it's considered a strike. Three strikes, and it's an out!
3. Question: How long does a game of dartball usually last?
The length of a dartball game can vary greatly depending on the number of innings you decide to play and the pace of the players. A casual game might last 30 minutes to an hour, while a more competitive or official game could run longer.
4. Question: Is dartball suitable for kids?
Absolutely! Dartball is a great game for kids, especially when you use soft-tip darts for safety. It's a fun way for them to learn about hand-eye coordination, teamwork, and the basics of baseball.
5. Question: Can dartball be played outdoors?
Dartball is typically played indoors, mainly because the darts need a flat, stable surface to land on. However, if you have calm weather and a way to secure your dartboard, you could definitely try an outdoor game!